Prime - SSUEC - Speaker Cage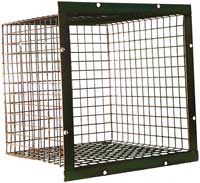 The SSUEC is an extremely solid, external speaker cage. These housings are primarily for use in fixed installations where there is a requirement for a tough yet good looking protective cover. They provide excellent security for expensive speaker systems, both from physical abuse and also theft (if installed using the correct fixing devices).
Size.......................330H x 430W x 350D
Construction.......Metal with a gold finish.
Applications include: Churches, Schools, Colleges and Universities, Hotels, Clubs and Restaurants, Halls, Auditoriums and Conference Centres, Commercial buildings, Public utilities and Tourist Locations, Shopping Centres, Railways, Airports and Bus Services.